Regular price
$449.99 USD
Regular price
Sale price
$449.99 USD
Unit price
per
Sale
Sold out
Share
The NACHO Quatro is here to redefine the off-road light market with its sleek 4" pod design and innovative user-controlled features. Designed by NACHO, this groundbreaking light brings a focus on performance, design, protection, and versatility, which embodies NACHO's core values.
Choose from various Quatro models tailored to specific lighting needs:

NACHO Quatro Combo: This model combines a spot and flood beam, utilizing TIR optics and a drive Lenticular to provide an ideal beam pattern. With an impressive 5,243 effective lumens and 62,000 candela per light, it offers wide coverage and downrange illumination.


NACHO Quatro Spot: Experience high power in a compact package. Each light delivers 60 watts of power, providing 5,410 effective lumens and 106,000 candela. Perfect for mounting on A-Pillars and higher positions, the spot beam ensures exceptional downrange visibility.

NACHO Quatro Flood: Designed for optimal spread of light in your immediate surroundings, this flood beam option offers both high and low power settings. With 60 watts of power per light, it illuminates the area with ease, making it suitable for various applications.

NACHO Quatro SAE: Compliance meets versatility with the SAE-certified Quatro. Available in white or amber options, it offers a range of functions, including a fog beam, spot beam, and mixed combo. With 6,020 lumens and a high-power spot, it provides exceptional lighting performance.
Durability and Reliability:
The NACHO Quatro is built to withstand the harshest off-road environments. Constructed with premium materials and rigorously tested, it ensures durability and longevity. Features such as A360 Cast Aluminum heat sink, impact-resistant polycarbonate lens, IP68 water and dust ingress compliance, and SAE J575 vibration compliance guarantee its robustness. Moreover, the Quatro is equipped with reverse polarity protection, over/under voltage protection, and patent-pending thermal management and voltage regulation systems to safeguard both the light and your vehicle's electrical system.
View full details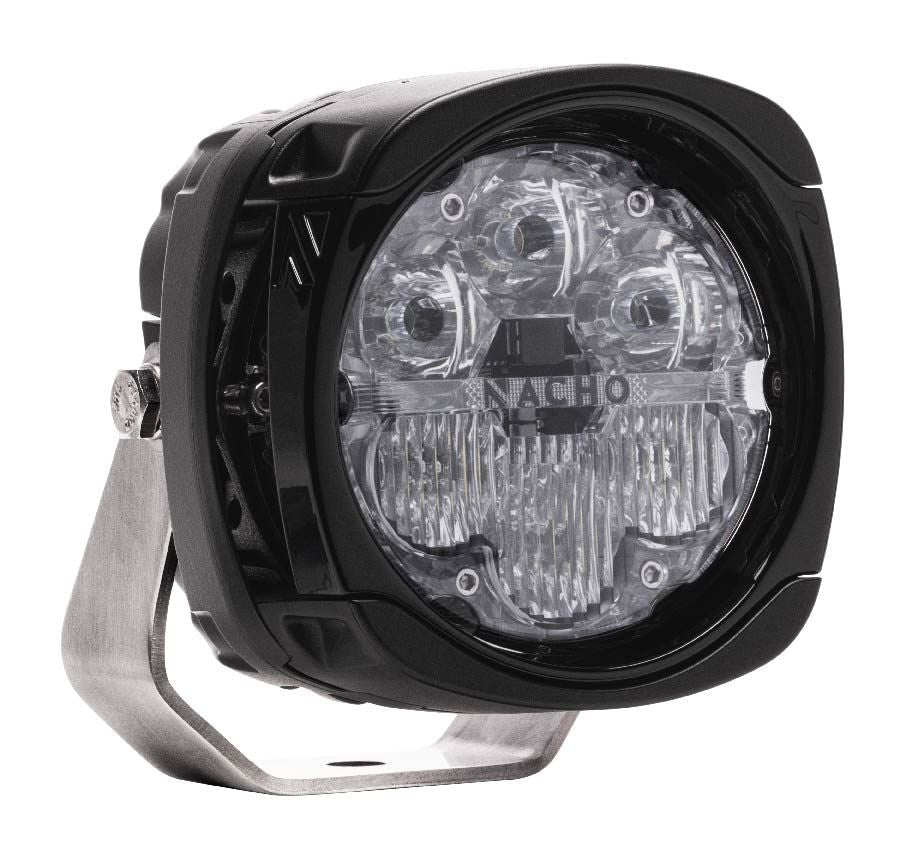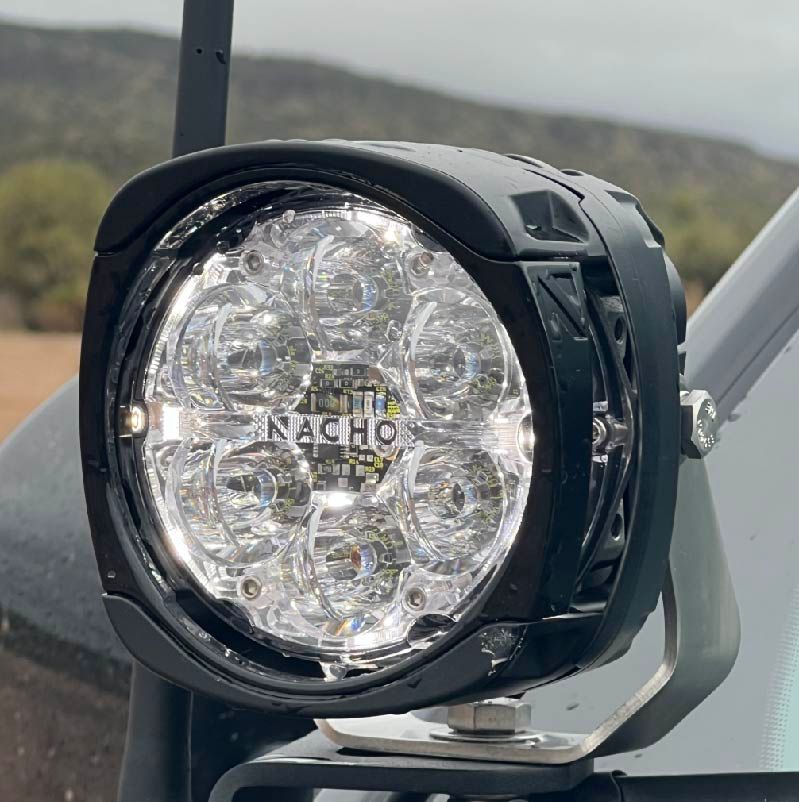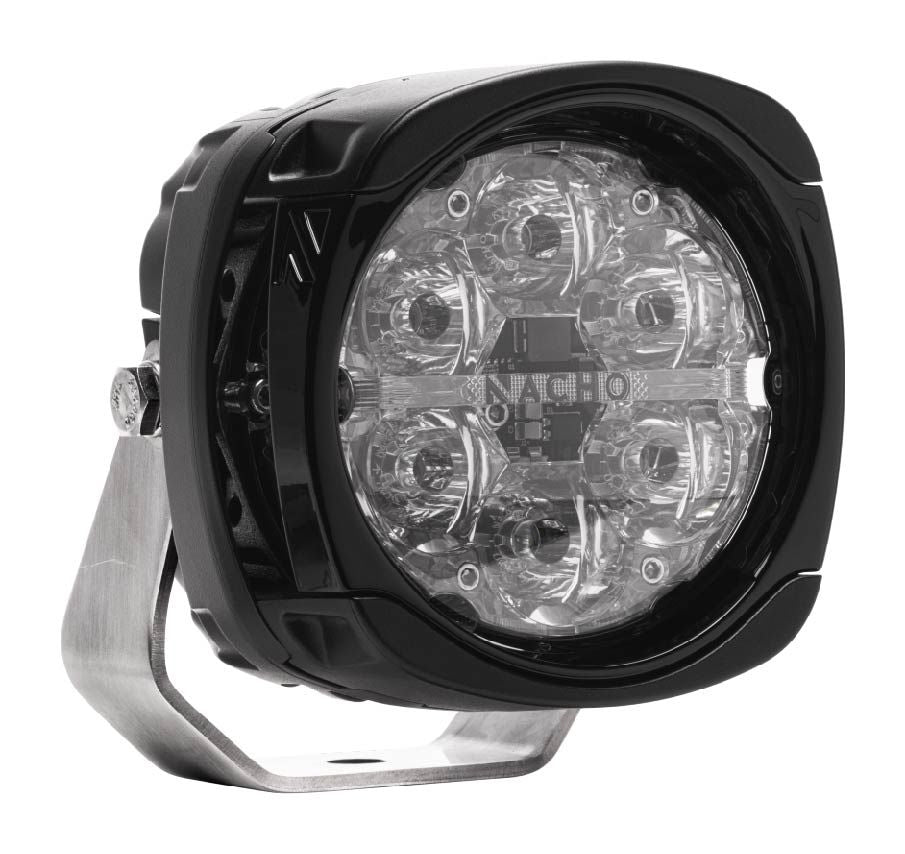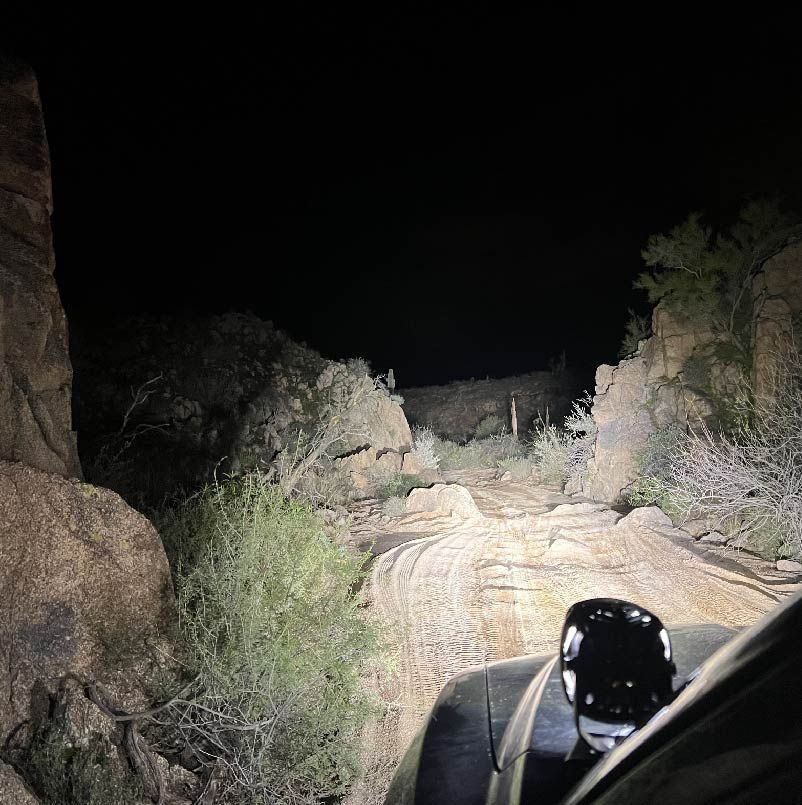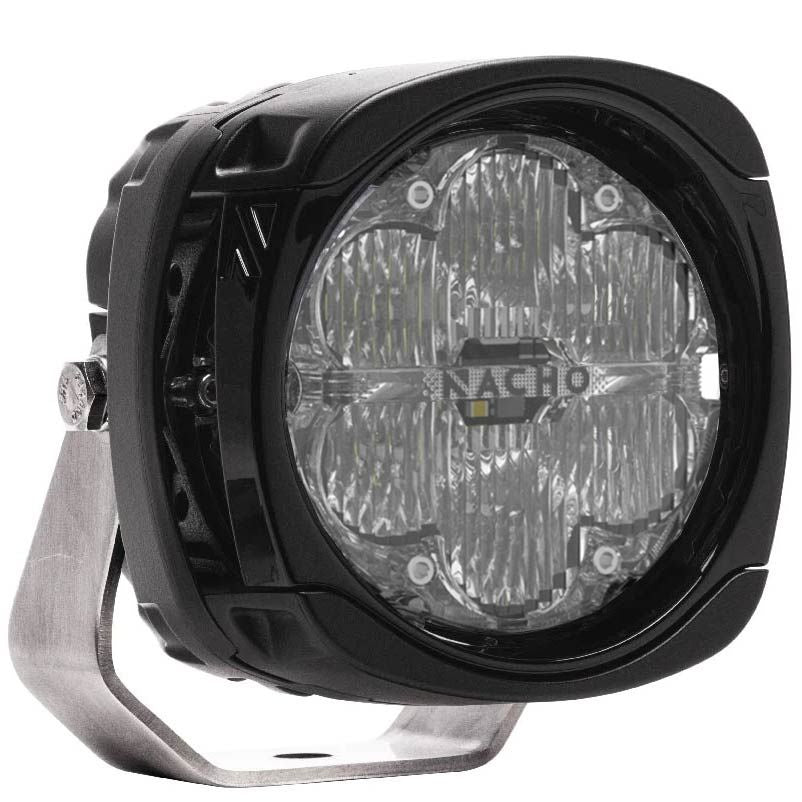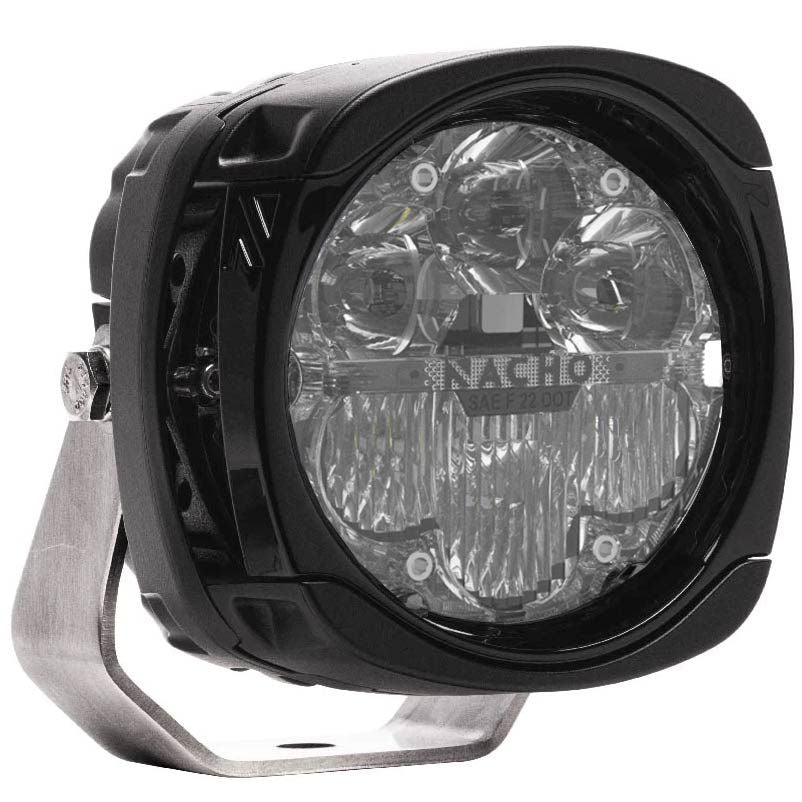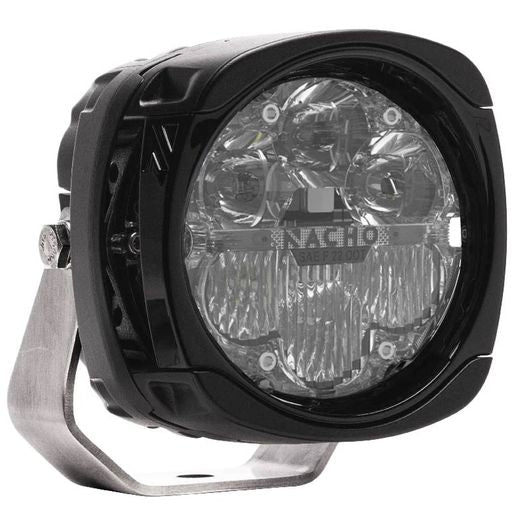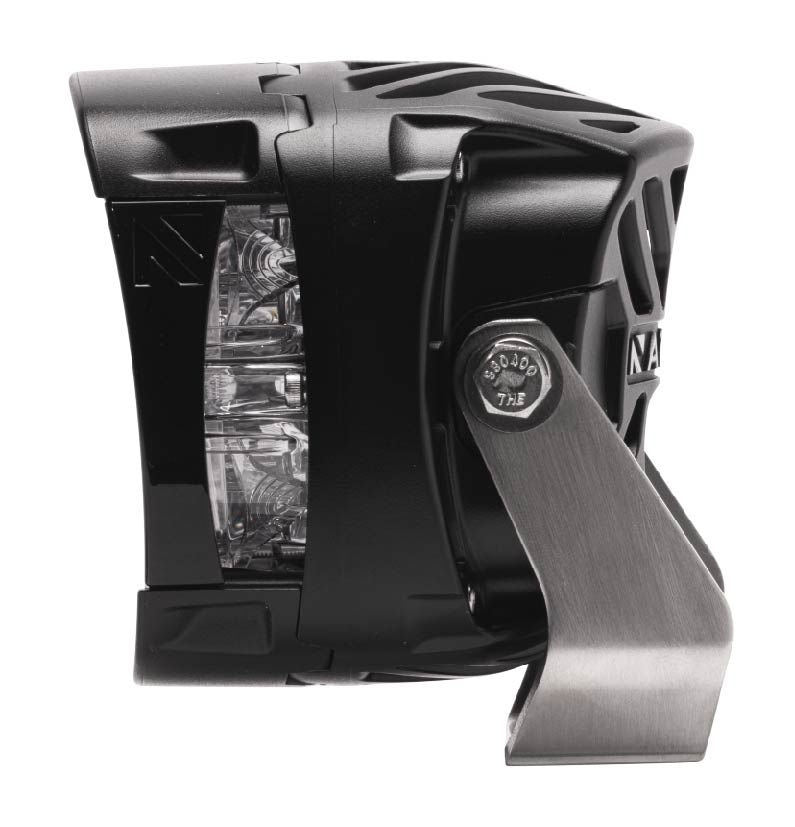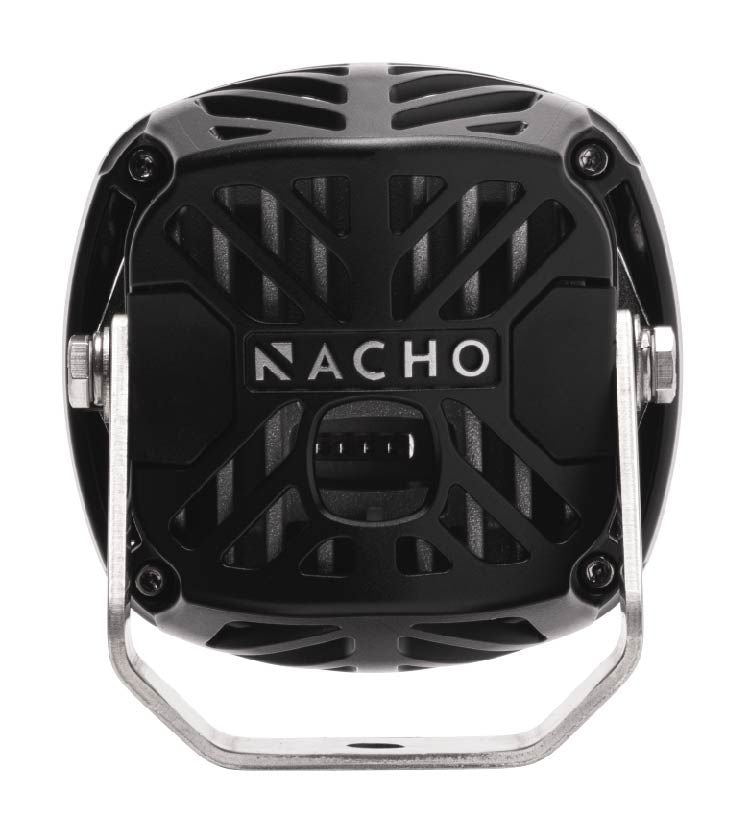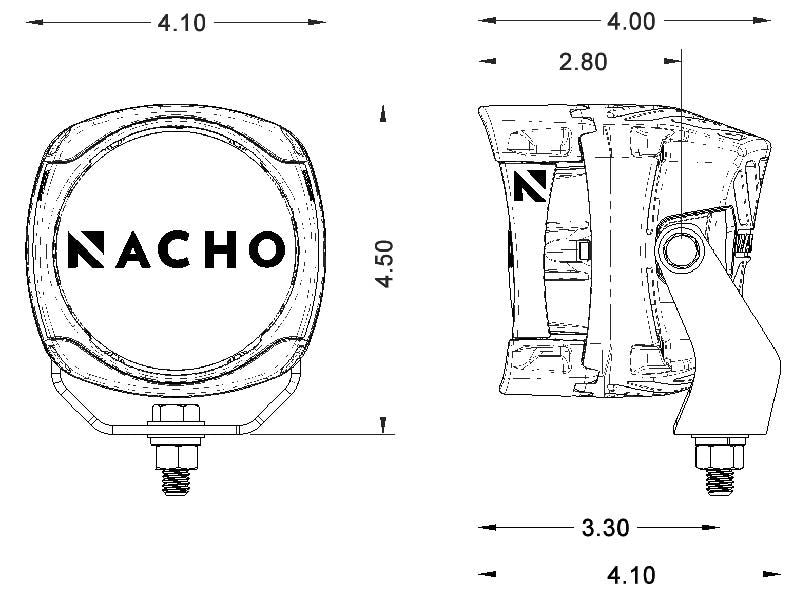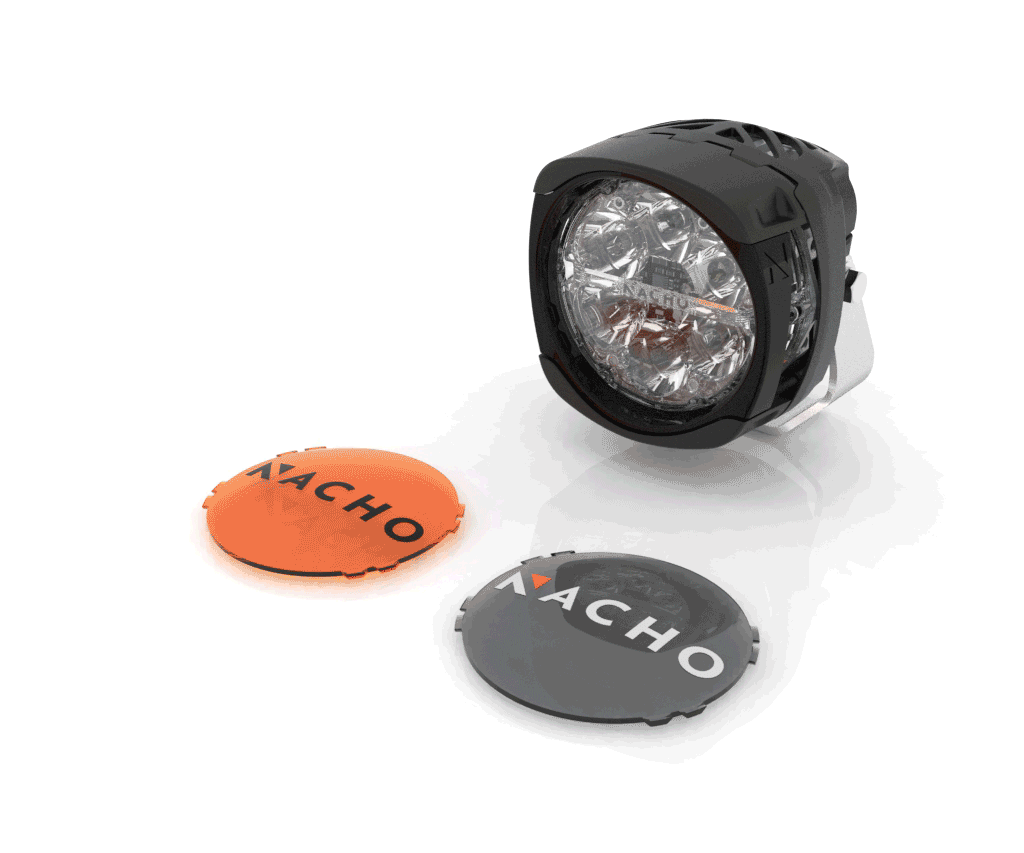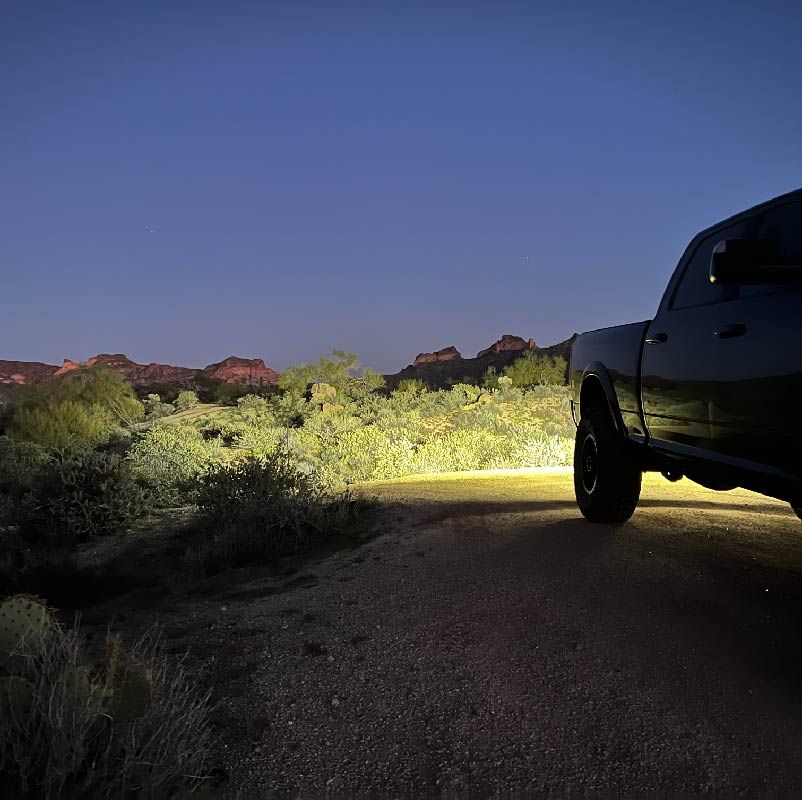 Collapsible content
FEATURES

•A360 Cast Aluminum heat sink
•Polycarbonate outer housing
•Polyester powder coat for excellent corrosion resistance.
•Chrome plated Stainless steel hardware
•Stainless steel mounting bracket
•Molded mount bushings to isolate dissimilar metals.
•Membrane breather for moisture
•IP 68 compliant for water/dust ingress
•Impact resistant poly carbonate lens.
•UV and scratch resistant topcoat on lens.
•SAE J575 vibration compliant
•TIR optic design
CONSTRUCTION

The pod is made from durable polycarbonate and is IP68 rated for water and dust resistance. The Quatro is also vibration-resistant and meets SAE J575 standards.
WARRANTY

NACHO lights are backed by a limited lifetime warranty, so you can be confident that your investment is protected.
User Control

The NACHO Quatro empowers you to take charge with its multiple function options. You have the freedom to choose between low power output which engages the lower LEDs or a high-power output which operates the light with all 6 LEDs.

Forced induction design

Setting a new standard, the Quatro boasts the distinction of being the first Forced Induction light on the market. The outer body of the Quatro has been meticulously crafted with key features in mind. It is designed to channel airflow through the front and exhaust it from the back, effectively cooling the heat sink. Additionally, the housing is removable, allowing for a naked light engine that enables flush mounting or installation in factory fog light locations.

TRL (Trail Running Light)

The Quatro introduces the innovative TRL mode, providing a low-power glow effect that ensures visibility to oncoming vehicles during trail runs. This unique feature can be wired to a single switch or integrated directly with your factory running lights, allowing for easy customization and convenience

Technology and Protection

• Reverse polarity protected
• Over/Under Voltage protected
• Patent pending thermal management, power to LEDs
will reduce to protect electronics.
• Patent Pending Voltage Regulation to protect the
vehicles electrical system by reducing power at
lower voltages.

Made in America

Unlike many off-road lights, NACHO products are made in the USA. All NACH lights are engineered and manufactured on-site are their facility in Mesa, Arizona.
Who is Nacho?
Nacho is an off-road lighting company based in Mesa, Arizona. They are dedicated to providing high-quality, performance-driven lighting solutions for off-road vehicles. Nacho designs, manufactures, and distributes a wide range of off-road lighting products that are engineered to meet the demanding needs of off-road enthusiasts, and are built to withstand the harshest conditions. Nacho's products are backed by a limited lifetime warranty. If you are looking for high-quality, off-road lighting, then Nacho is a great option.